So I've been producing music for almost a decade now and
Altered Fates
is my fortieth album. (yes 40...lol) I try to put out an album with the changing of every season. Each one I consider to be sort of an auditory journal or glimpse into my psyche during the recording months leading up to its release. Every moment, event, action, decision and mood playing an integral part in my creative process, but on a subconscious level. What I mean by that, is with no formal musical background or training, every time I press record I have no idea what's going to come out. (I like to call it soul diarrhea) It might be super heavy and aggressive, it might be super trippy and spaced out, it might be some abstract slow burner.... I never really know. I feel that this approach has kept me on my toes and has contributed to the evolving sound and style that is "The Market Ace".
And if you can't tell.... I'm still a fan of "the album" as opposed to dropping singles and half assed EPs. Almost all of my albums definitely have specific themes and vibes involved. Everything from the cover art to the track placement to the song names themselves. I consider them bodies of work.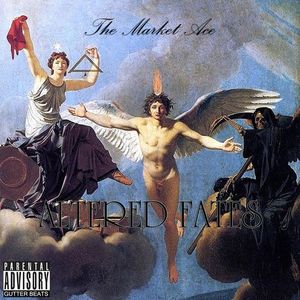 Altered Fates is representative of life and the decisions we make based on the circumstances we are given. I feel as if everything has an energy and everything has wave-like fluidity. So ultimately when you learn to harness that energy to control or change your mindset/situation/thinking, you can ultimately alter your fate(s). If you know me then you know I've had a handful of "life changing" events in the past year that have totally made me reevaluate my outlook on life and what it means to be truly alive; an "altered fate" if you will. 
All the existentialism aside....I'm really proud of this album as it contains a wide spectrum of emotions, styles, tones and energies.


So without further ado......From deep within the dark spaces of my warped psyche I present to you......Altered Fates.